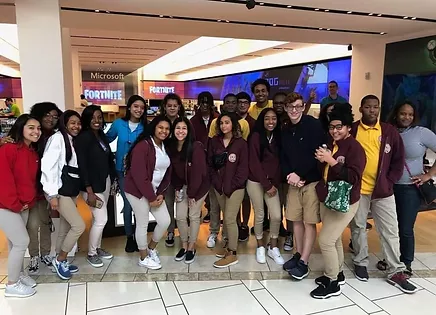 Visions of Destiny
visionsofdestiny.org
We are Proud to Support...

VISIONS OF DESTINY, INC. is a 501(c)3 organization serving middle and high school students in the traditional and alternative settings. We strive to help these students define their futures through community partnerships and coaching. We employ a holistic approach focusing on four key areas: personal development, professional development, career development, and parental involvement. We also provide challenging opportunities in private sector businesses, public agencies, or nonprofit organizations.
​VISIONS OF DESTINY, INC. empowers young people to take critical steps toward meaningful careers. Each year, VISIONS OF DESTINY, Inc. will train and place talented youth in summer paid Ambassadorships with employers ranging from Fortune 500 companies to small local businesses in sectors ranging from healthcare and real estate to technology and education.
​VISIONS OF DESTINY, INC. also provides additional academic and career enrichment including industry -specific events, career readiness resources, financial literacy training, college tours, scholarships and more.
Active Community Leadership
Leading by example.  As a member and current president of the Bay Area Brotherhood, Karen spends countless hours in the Tampa Bay Community working to ensure the organization's mission of helping disadvantaged kids is fulfilled. Karen also volunteers countless hours to Women's Centered 4 Success, a nonprofit which helps women, and the Peter Mulry Foundation, which provides life skills through sports to Bay area youth.